The Supro Dual-Tone guitar.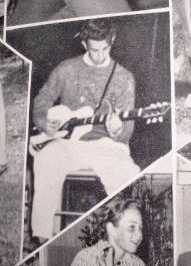 (an extract from the 'Early Guitars' section of Zappa's Gear)
"The earliest known picture of FZ with a guitar, from his 1958 high-school year book One of the rare photographs of FZ from this period is from the Antelope Valley High School 1958 yearbook. A montage of pictures of students, it shows him playing a white Supro Dual Tone electric guitar. Supro were an offshoot of the Valco Company, who also made National, Airline, and other budget guitar brands for various mail-order catalogues. When it was introduced in 1957, the 1524S 'Dual Tone' was their top electric guitar, selling for around $150.

The guitar featured very cool art-deco styling; the 'Arctic White' sculpted body was set off with a split-level black and white pickguard and brass-plated hardware. It had a pair of single-coil pickups (disguised as more expensive humbuckers), with a three-way selector switch, and dual volume and tone controls (hence the name).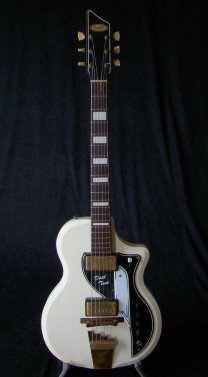 The bolt-on neck did not have an adjustable truss-rod but was built around an aluminium girder; Dan Electro and Hagstrom used a similar concept. With large white block markers set into the rosewood fingerboard, the neck was finished off with an asymmetric headstock and Kluson Deluxe tuners. The strings passed over a carved rosewood bridge into a decorative 'stair-step' plated tailpiece.

The Dual Tone was produced until the late 1960s; seminal rock and roll guitarist Link Wray used it on many records. Ry Cooder played one extensively in the 1980s, and more recently David Bowie took one on his 2003/4 tours. Original Dual Tones in good condition are highly sought after now, and a modern replica (with real humbucking pickups and a fully adjustable bridge) is available from Eastwood guitars. FZ never mentioned owning such a stylish instrument, so we must assume he had only borrowed it from a friend."